Breathe easily with Knitido®
The comfortable, simple everyday mask for children and adults
Not all the masks are the same: Sometimes it slips, it presses so hard on the face that you get real bruises from it.
We at Knitido® do it differently: Your comfort is our priority.
The design of Comfy Mask free is exactly tailored to your face and its needs:

Anatomical fit, the edges fit your face without slipping.
Without nose clip: A generous amount of space to the front makes it easier to breathe without having to use a nose clip.
Seamless and comfortable: knitted completely in one piece, without disturbing seams and pressure points.
Foldable: Easy to store and take with you.
Good fit behind the ears: The mask holds well without pressing behind the ears.
Two-ply: Two layers of tightly woven organic cotton.
Washable: Up to 60°C machine washable, easy to clean and hygienic.
Notes on size selection
size M is a standard size designed to fit an average-sized adult or adolescent face, regardless of gender. Choose size L if you have a slightly larger head, a more pronounced face or a full beard. Size S is ideal for kids or narrow faces..

The mask remains permanently elastic and reassembles after wearing. Due to the stretching when worn, the mask always remains slightly larger than in the delivery condition. The mask does not shrink during washing.
How to use Comfy Mask free correctly
Wash the mask after each use
Wash your hands thoroughly before each application and removal of the mask
If you feel uncomfortable with the mask or experience skin reactions, do not wear it any more.
Caution when wearing the mask with glasses at the same time, especially when driving a car, as the glasses may fog up.
Care instructions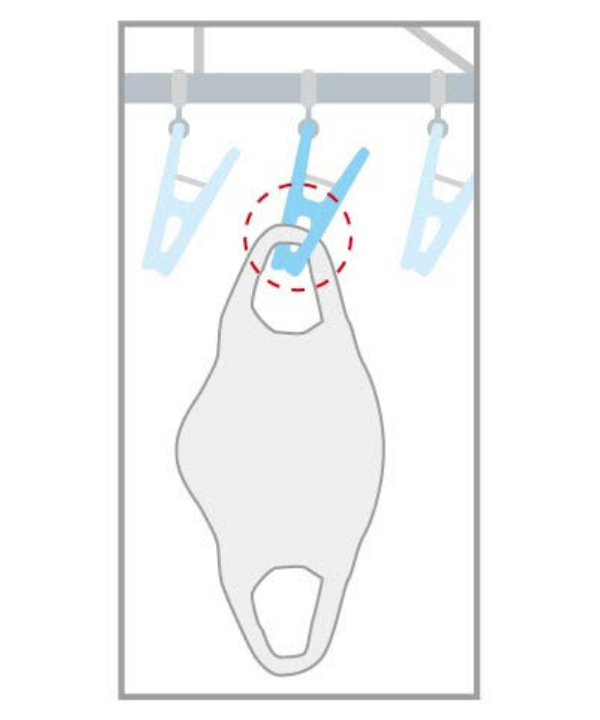 Wash the mouth and nose mask up to 60°C in the washing machine.
Use a neutral detergent.
We recommend using a laundry bag to ensure a long durability.
Do not tumble dry, do not iron, do not dry clean.
To dry your mask, hang it by one of the ear loops. Please avoid pinching the loop with the clothespin (see illustration).