YUME is the light, comfortable and sustainable Sock that feels good all around:
with Grip
open style
a perfect fit knitted
no disturbing seams
from vegetable dyedhe organic cotton
Botanical Dye
- naturally until the end
The toe socks are made of 87% organic cotton and are dyed with exclusively vegetable dyes. That is why the names of the delicate four colour combinations each reflect the plant that was used to make them.
Embedded Balance
- the support concept of Knitido+
Feet are the foundation of our body - and usually have to carry a heavy load. The whole body literally stands on them, but at the same time its alignment depends on how they stand on the floor.
Challenge your balance - and try the Pilates and Yoga toe socks with compensating footbed made of.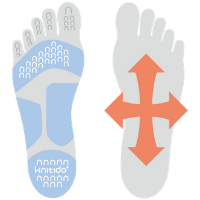 Two side pads on the sole of the foot support the longitudinal arches and "show" your feet where to place the centre of gravity correctly: Your body balances and plays with the new feeling on the sole of your feet. You will be surprised how your sensory system will improve.
The Anti-Slip Coating from Knitido Plus guarantees a secure hold on the surface.
The Balance Models in comparison
| | Yume | Kokoro | Nagomi | Sora | Kumo | Yuki | Ame |
| --- | --- | --- | --- | --- | --- | --- | --- |
| | | | | | | | |
| Non-slip | ✓ | ✓ | ✓ | ✓ | ✓ | ✓ | ✓ |
| Organic Cotton | ✓ | ✓ | ✓ | ✓ | ✓ | ✓ | ✓ |
| Vegetable dyes | ✓ | ✓ | ✓ | X | X | X | X |
| Open toes | X | ✓ | X | X | X | ✓ | ✓ |